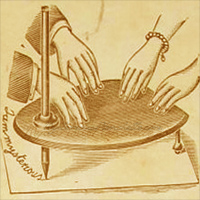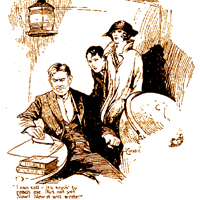 The advent of the First World War had an effect on planchettes very similar to the American Civil War in the past century, with a sudden shift of media attention away from the devices as news of the conflict crowded out most other journalism, followed by a sudden spike in their popularity as survivors struggled to cope with the death of loved ones in battles that had never before seen such ferociousness or wholesale loss of life. This was, of course, true for talking boards as well, which has sustained popularity in the US and come to dominate the American market.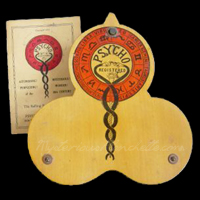 We have intriguing hints of new innovations in the form of period
patents
, but it is unlikely, and unfortunate, that many of the items were ever produced for sale. A new "Mediumistic Board" was patented by Cutberto Hildago in 1926 in a classical writing planchette form, but it is unclear if the item was ever manufactured. So it was with many such devices, such as Harry Bigelow's 1921 lateral-sliding version of
Braham's
earlier slide-rule dial plate or William Swallow's "Spirit Wheel," which updated the
Ayres
"Pytho" for a new generation.